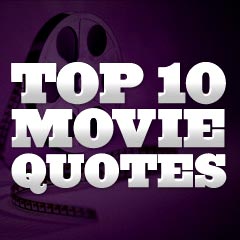 Even though this is a top ten list, it isn't in any specific order. I shall allow my readers to choose in which order the following quotes should be listed. I don't believe I can choose the best of the best in just ten steps, but it's worth giving it a shot.
1. Love is passion, obsession, someone you can't live without. I say, fall head over heels. Find someone you can love like crazy and who will love you the same way back. How do you find him? Well, you forget your head, and you listen to your heart. And I'm not hearing any heart. Cause the truth is, honey, there's no sense living your life without this. To make the journey and not fall deeply in love, well, you haven't lived a life at all. But you have to try, cause if you haven't tried, you haven't lived.
2. So I guess this is where I tell you what I learned - my conclusion, right? Well, my conclusion is: Hate is baggage. Life's too short to be pissed off all the time. It's just not worth it. Derek says it's always good to end a paper with a quote. He says someone else has already said it best. So if you can't top it, steal from them and go out strong. So I picked a guy I thought you'd like. 'We are not enemies, but friends. We must not be enemies. Though passion may have strained, it must not break our bonds of affection. The mystic chords of memory will swell when again touched, as surely they will be, by the better angels of our nature.'
3. We don't read and write poetry because it's cute. We read and write poetry because we are members of the human race and the human race is filled with passion. Medicine, law, business, engineering, these are noble pursuits and necessary to sustain life. But poetry, beauty, romance, love, these are what we stay alive for. To quote from Whitman, "O me! O life! Of the questions of these recurring, of the endless trains of the faithless, of cities filled with the foolish; what good amid these, O me, O life? Answer. That you are here, that life exists, and identity; that the powerful play goes on and you may contribute a verse." That the powerful play goes on and you may contribute a verse. What will your verse be?
4. We accept the fact that we had to spend a whole Saturday in detention for whatever it was we did wrong, but we think it's stupid for you to make us write an essay telling you who we think we are. You see us as you want to see us. In the simplest terms with the most convienient definitions. But what we found out is that each of us is a brain, an athlete, a basketcase, a princess, and a criminal. Does that answer your question?

5. My name is Maximus Desimus Meridius, commander of the armies of the north, general of the Felix legions, loyal servant to the true emperor, Marcus Areillius. Father to a murdered son, husband to a murdered wife, and I will have my vengeance, in this life or the next.

6. That thing, that moment when you kiss someone everything becomes hazy, and the only thing in focus is you and this person. And you realize that that person is the only person you are supposed to kiss for the rest of your life. And for one moment you get this amazing gift, and you wanna laugh and you wanna cry because you feel so lucky you have found it and so scared that it will go away all at the same time.

7. I think, no, no I am certain that you are the most unattractive man I have met in my entire life. In the short time that I have known you, you have demonstrated all of the loathsome characteristics of the male personality, AND even discovered a few new ones. You are physically repulsive, morally reprehensible, selfish, stupid, you have no taste, a lousy sense of humor, and you smell. You know, you're not even interesting enough to make me sick.

8. There are four questions of value in life... What is sacred? Of what is the spirit made? What is worth living for, and what is worth dying for? The answer to each is the same. Only love.

9. Love is patient, love is kind. It does not envy, it does not boast, it is not proud. It is not rude, it is not self-seeking, it is not easily angered, it keeps no record of wrongs. Love does not delight in evil but rejoices with the truth. It always protects, always trusts, always hopes, always perseveres. Love never fails.

10. When you talked earlier about after a few years how a couple would begin to hate each other by anticipating their reactions or getting tired of their mannerisms-I think it would be the opposite for me. I think I can really fall in love when I know everything about someone-the way he's going to part his hair, which shirt he's going to wear that day, knowing the exact story he'd tell in a given situation. I'm sure that's when I know I'm really in love.